Hilti Job Offer – Connected Tools/IoT Product Management (m/w/d)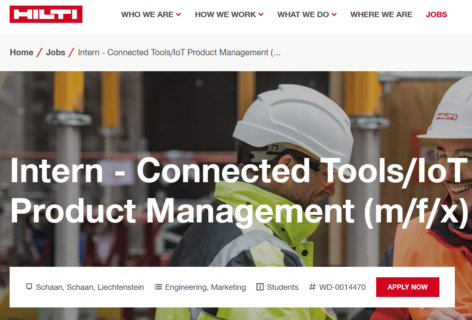 Still looking for an internship? Our industry partner Hilti is looking for you! Join Hilti and you'll be an integral part of the product management team, helping to define new solutions and the hardware, software and services that make them work. If you are an enthusiastic industrial engineering, information systems or business management student, you will be able to apply the theory from your studies directly.
Hilti provides leading edge tools, technology, software and services to the global construction industry. They have a proud heritage built over 75 years and a global reputation for pioneering products and exceptional service. With 30,000 employees in more than 120 countries, and growing, Hilti is a great place for you to prove yourself, take on new challenges and grow your career.
If you have any further questions, get in touch with Julian or contact Hilti directly.
https://careers.hilti.group/en/jobs/wd-0014470-en/intern-connected-tools-iot-product-management-m-f-x/