Leading Digital Transformation Batch 4 at FAU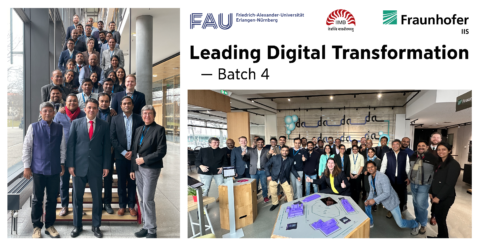 Following the inaugural week of the Leading Digital Transformation executive education program with Batch 4 at the Indian Institute of Management Bangalore (IIMB) in December last year, participants now gathered for the second module at FAU. Upon the opening by the program directors Prof. R. Srinivasan, PhD (IIMB), Prof. Dr. Kathrin M. Möslein (Wi1 – FAU), Prof. Dr. Angela Roth (Wi1 – FAU) and Prof. Dr. Alexander Pflaum (Fraunhofer IIS), the Consul General of India in Munich Mohit Yadav honored the group with a keynote speech on current topics of the cooperation between Germany and India and possibilities to intensify interactions even further. Other agenda items on the opening day included sessions by Prof. Möslein on the use of open innovation in the digital transformation and by Wi1 researcher Sascha Julian Oks, with whom participants developed Industry 4.0 systems in a workshop utilizing web tools from the chair's spin-off QuartRevo. In the evening, the group gathered in the Senate Hall of FAU in Erlangen and experienced the rich history of the university spanning more than 275 years.
During the two days at the Fraunhofer Institute for Integrated Circuits IIS, presentations by Prof. Pflaum and Prof. Dr. Andreas Harth focused on technologies for implementing digitalization projects. At the L.I.N.K. Test and Application Center, the potentials and applications of these were experienced live.
Excursions took the group to the Zollhof start-up incubator, where founders' air was breathed, and to SIEMENS at the high-tech site in Amberg. After a fascinating tour through the digitalized production of PLCs, Wi1 alumna Dr. Julia Jonas outlined the current challenges in the manufacturing industry. Further contributions were made by Prof. Dr. Sven Laumer on the role of humans in digitalization and by Wi1 researcher Matthäus Wilga with the subject of Designing AI Based Value Propositions with a special focus on the healthcare industry.
The richly filled and thematically multifaceted week was concluded with project presentations by the participants at JOSEPHS—the Open Innovation Laboratory, of which the spirit was showcased by CEO Prof. Dr. Claudia Lehmann.
Together with the participants and all those involved, we look back on a highly insightful and fulfilling time! Good luck to all participants for the final presentations and a joyful graduation in June!
On to Batch 5! Information about the LDT program can be found here.