Service Innovation – breakout to explore innovation at Munich Airport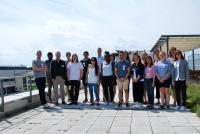 The master seminar "Service Innovation" at Wi1 just had a breakout to Munich Airport – the student group, together with Prof. Angela Roth and Dr. Julia Jonas, were invited to the Airport Academy, to learn about innovation management practice from the practicioners at Flughafen München GmbH, to engage and get creative for new concepts and to experience a guided tour with some background information about new processes, buildings and airplanes.
The group came back with some really nice impressions, and even some homework to do. 🙂
A big thank you goes to the innovation team at Munich Airport, for anabling and organising a really nice day with diverse activities, Schnitzel and dessert!