Paper aus dem Projekt PRODISYS zur Effizienzsteigerung in Instandhaltungsprozessen durch modulare Service-Bündel unter Beteiligung von Sascha Julian Oks erschienen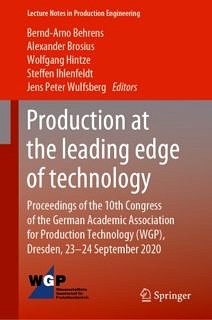 In dem Beitrag Increasing Efficiency in Maintenance Processes through Modular Service Bundles widmen sich die Autoren, bestehend aus einem interdisziplinären Team des Lehrstuhls für Fertigungsautomatisierung und Produktionssystematik (FAPS) und Sascha Julian Oks vom Wi1, dem Thema, wie die Entwicklung und Orchestrierung von modularen Service-Bündeln zur Komplexitätsreduktion und Effizienzsteigerung in Instandhaltungsprozessen im Kontext von Industrie 4.0 genutzt werden können. Der Beitrag ist in der Ausgabe Production at the Leading Edge of Technology in der Reihe Lecture Notes in Production Engineering erschienen und hier zugänglich.
Gerne nehmen wir diese fakultätsübergreifende gemeinsame Publikation zum Anlass, dem PRODISYS-Team am FAPS um Prof. Dr. Jörg Franke und Jonathan Fuchs für die exzellente Zusammenarbeit über die dreijährige Projektlaufzeit zu danken.