Industrie 4.0 meets Made in China 2025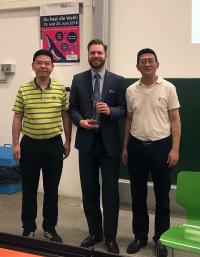 The ongoing digitization of industrial value creation processes receives attention from researchers and representatives of industry all around the world. Many countries established initiatives to foster this trend and to support their industrial sectors in the application process of digital technologies, novel data driven business models and future of work programs. The German initiative "Industrie 4.0" is a well-known example in this context. In China, the pendant "Made in China 2025" aims at the comprehensive enhancement of the industry there.
In the last weeks, delegations of Guangdong Polytechnic Normal University and China West Normal University visited the Friedrich-Alexander-Universität Erlangen-Nürnberg to exchange ideas and insights about the country specific initiatives. Chair of Innovation and Value Creation member Sascha Julian Oks gave both delegations lectures on industrial cyber-physical systems and discussed success factors of funding initiatives with the visitors. We look forward to further strengthening the links between the universities and to continue the exchange.