Competitive Advantage in the Digital Economy: call for submissions to CADE 2019 in Venice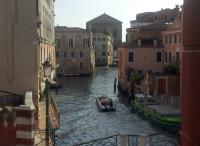 In the course of the past years, the CADE conference has assembled service researchers in Venice to discuss the digital economy, including leading scholars such as Steve Vargo, Bob Lusch, Chris Voss, Ola Henfridsson, Haluk Demirkan and many others. #CADE2019 will continue the tradition this year from May 20 to May 22. Special focal areas will be smart service systems, personal data and cyber-security. Submission of extended abstracts is open until February 9th.
Further information can be found here: https://warwick.ac.uk/fac/sci/wmg/research/business_transformation/ssg/ssgabout/sswmgactivities/cade2019. The conference provides a unique opportunity to discuss your research in a small group with leading experts in the field. Don't miss it!