Celebrating the 2018 Shin Awards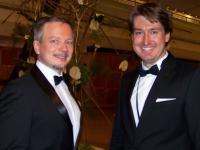 FAU's Alexander Bohnert and Albrecht Fritzsche (wi1) have been honoured at this year's Global Insurance Forum in Berlin. They received the Shin Research Excellence Award of the International Insurance Society and the Geneva Association together with co-author Shirley Gregor for their paper on digital agendas in the insurance industry. The award was handed out to them by Shin Chang-Jae, son of the founder of Kyobo Life Insurance, and Mike Morrissey, president and CEO of the International Insurance Society, one of the most prominent organizations of the global insurance industry which brings together numerous stakeholders, including company executives, academic scholars, regulators and advisors from almost 100 countries.
In the laudation speech for Bohnert, Fritzsche and Gregor, president Morrissey highlighted the scientific rigour of their paper, which produced rare, actionable evidence of the importance of comprehensive approaches to the digital transformation. Their work therefore holds important insights for both academic research and industrial application. The paper will be published in a special issue of the renowned Geneva Papers on Risk and Insurance. Further information can be found here.
Photo: IIS Global Insurance Forum