Wi1 at MedTech Summit 2016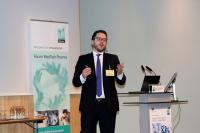 In June 2016, the biennial MedTech Summit took place at the Nuremberg Convention Center. The international congress is a major event for the medical and health care sector and targets researchers, developers, manufacturers, suppliers, and healthcare operators. This year's congress was visited by more than 1000 participants from 21 countries and was accompanied by an exhibition with 120 exhibitors and a scientific poster section. The event was supported by the Bavarian Ministry of Economic Affairs and Media, Energy and Technology which also organized a state reception at the Nuremberg Imperial Castle. Parts of the program were hosted by the Federal Ministry of Education and Research.
On the second congress day, Matthias Rass from WI1 gave an introductory talk on the challenges and opportunities of open innovation and crowdsourcing and illustrated how these approaches can make use of untapped potentials in healthcare. As these topics were in the focus of this year's event, the talk was followed by presentations from companies such as Siemens Healthineers reporting results from their Health Care Innovation Camp and aescuvest showing how they mediate between inventors and entrepreneurs on the one hand and investors on the other in a crowdfunding approach. Later that day, participants had the chance to experience open innovation in practice: The Medical Valley EMN cluster management hosted an innovation market place, giving ten start-ups the opportunity to pitch their solutions and business plans to potential partners and investors. At the same time, a delegation from Bavaria was visiting the Boston area and gave selected start-ups at the Cambridge Innovation Center the chance to take part in the pitch session via a live broadcast.
Click here for a YouTube video with some impressions of the event: https://youtu.be/-piqNGYMgao
Images 1, 4, 5: Peter Reinhardt / DeviceMed
Images 2, 3, 6-10: Matthias Merz / Bayern Innovativ GmbH / Forum MedTech Pharma e.V.