We do IoT! – IoT Solutions design workshop @JOSEPHS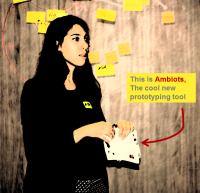 The Internet of Things (IoT) is a trend that is set to stay. With so many big companies including it within their development agenda, no wonder we will be surrounded with smart connected objects everywhere. This brings along an unprecedented potential for entrepreneurs and adventurers who want to create their own IoT business.
So what is exactly a smart connected product? And how to design it?
As the first episode of a captivating series about IoT design, the workshop was organised by our associate researcher Aida Boukhris. It was the opportunity to learn about the building blocks of IoT, understand smart connected products, and experience the design steps of an integrated IoT solution.
The theme of the workshop was about designing a decentralised bike sharing system, where bikes'owners can monetize their bikes by offering them for other users. In teams, the participants followed a structured approach to build such a complex system.
The workshop was also an opportunity to introduce a new prototyping tool for designing IoT systems, called Ambiots, that is curretly under development in collaboration with Feng Chia University in Taichung, Taiwan. It is made of electronic modules very easy to assemble so that users can build structures that model entrire complex systems.