Special Research Paper on Digital Transformation and Service Management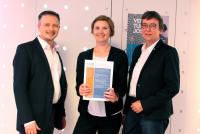 Julia Jonas, Albrecht Fritzsche and Kathrin Möslein are co-authors of the new special research paper in the Journal of Service Management Research. The paper presents the views of leading international scholars on the digital transformation and service management. In their commentaries, the researchers from wi1 discuss the power to express new ideas with the conceptual repertoire of service science and the importance of open laboratories like JOSEPHS to foster innovation. Other authors are Steven Alter, Haluk Demirkan, Veronica Martinez, Andy Neely, Irene Ng, Jim Spohrer and the journal editors Martin Matzner and Marion Büttgen. Together, they present a multi-faceted picture of the challenges and opportunities for service management in the digital age and lay out different agendas for future academic research.
The paper is an open access publication. It can be downloaded here.