Sebastian Gack mit dem "Springer BestMasters 2018" ausgezeichnet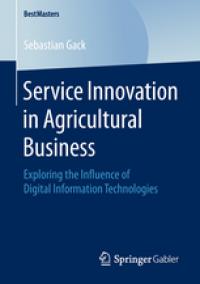 Sebastian Gack, Studiengang Industrial Engineering, wurde für seine Masterarbeit "Service Innovation in Agricultural Business – Exploring the Influence of Digital Information Technologies" mit dem Preis "Springer BestMasters 2018" ausgezeichnet. Die am wi1 verfasste Arbeit ist nun als Buch und eBook erschienen (https://www.springer.com/de/book/9783658235703).
Mit "BestMasters" zeichnet Springer die besten Masterarbeiten aus, die an renommierten Hochschulen in Deutschland, Österreich und der Schweiz entstanden sind. Die mit Höchstnote ausgezeichneten Arbeiten wurden durch Gutachter zur Veröffentlichung empfohlen und behandeln aktuelle Themen aus unterschiedlichen Fachgebieten der Naturwissenschaften, Psychologie, Technik und Wirtschaftswissenschaften.
Wir gratulieren sehr herzlich!
Bildquelle: Springer Gabler, 2018