PhD Seminar with Dr. Christoph Breidbach completed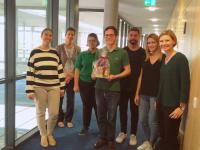 After 3 intensive days of discussing research, publication strategies and reviewing processes in academic top journals, it is already time to say goodbye to our special guest Christoph Breidbach. Christoph came all the way from The University of Melbourne, Australia, to interact and discuss with the PhD students of the Information Systems department in this seminar. Thank you for this inspiring visit, Christoph!
We wish you continued success in your work, a safe trip back…and that your wish from turing the ring of the fountain in Nürnberg will come true!