OSL theme day connects science and industry – lively discussions together with MinR Dr. Bode about the future of value creation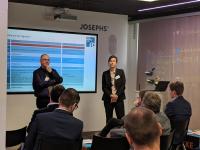 On Wednesday, 29.05.2019, the Open Service Lab (OSL) invited to a theme day together with MinR Dr. Otto Fritz Bode. Prof. Dr. Roth led through the program in the innovation laboratory JOSEPHS, which focused on the topic "Future development of value creation".
The morning offered exciting insights into the research focuses around the topic "Value Creation". The presentations showed a variety of facets and different perspectives due to the fact that professors of the FAU, representatives of the Fraunhofer Institute SCS and MinR Dr. Fritz Otto Bode, representing the BMBF, illuminated the spectrum of value creation in different ways.
The Afternoon focused mainly on the industry. Prof. Dr. Roth invited representatives of various branches and business forms to a panel discussion together with MinR Dr. Otto Fritz Bode. The participants discussed the question "From the topic idea to research funding – how should research work?", from which many challenges and even more opportunities could be identified. The participants used the opportunity to express their individual needs and lively discussed possible solutions in order to satisfy all stakeholders equally.
The event was rounded off by a short insight by CEO Christofer Daiberl into the realignment of the JOSEPHS and the digital platform of the OSL, presented by Uwe Kroner.
Many thanks to all participants. You have helped to fill the theme day with exciting content and make the event a success.