MedTech Bootcamp 2019 – Application deadline approaching!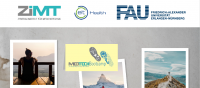 The deadline for the 2019 MedTech Bootcamp is approaching: if you are developing a medtech related startup idea and want to accelerate it, you should not miss this opportunity! The bootcamp runs in two phases from September 2 until November 7, 2019 including a pitch-roadtrip through Europe. Participating teams are supported during the program with up to 10,000€ for travelling and accommodation.
Phase1:
4 weeks of Business Design and Validation at FAU in Erlangen/ Nuremberg and in Munich at unternehmerTUM
This pahse includes i.a. sessions on Market evaluation and access, USP, Service Design and Customer feedback, Investor Readiness, financing strategies and alternative methods, plus Individual Coaching and Pitch trainings and pitch events
Phase 2:
3 weeks on a European Roadtrip to present your ideas to a broad network including investors and VCs, to: Lodz (PL) at UML, Barcelona (ES) at IESE, Paris (FR) at Medicen, Coimbra / Lisbon (PT) at IPN.
For more information and links to the application see the website www.medtech-bootcamp.de