Leading Digital Transformation goes into round 4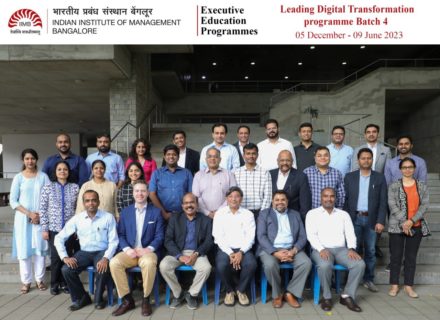 The executive teaching program Leading Digital Transformation, which is jointly curated and conducted by FAU, the Indian Institute of Management (IIMB) and the Fraunhofer Institute for Integrated Circuits IIS, has welcomed its 4th Batch recently in Bangalore, India. After two virtual runs due to the pandemic, participants could finally get back together in lecture halls and field trips to high-tech companies. The well-balanced program provides managerial implications based on the latest research results on the digitalization of value creation processes and business models as well as best practices from renowned companies and start-ups. For FAU, Sascha Julian Oks of Wi1 accompanied the first module at IIMB in December 2022.
We look forward to welcoming participants and lecturers at FAU in March 2023 for module 2 to continue innovating and collaborating on the topics of the digital transformation.
More information about the program can be found here.
The program directors are: Prof. Dr. Kathrin M Möslein (FAU), Prof. Dr. Angela Roth (FAU), Prof. Dr. R Srinivasan (IIMB) and Prof. Dr. Alexander Pflaum (Fraunhofer IIS).