CfP: 9th SERVICE OPERATIONS MANAGEMENT FORUM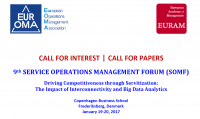 The Call for Papers for the 9th SERVICE OPERATIONS MANAGEMENT FORUM (SOMF) is out: with the overall theme "Driving Competitiveness through Servitization: The Impact of Interconnectivity and Big Data Analytics", this Forum offers an opportunity to share ideas, knowledge and experience in service innovation and servitization. More information on the workshop will be provided from September at www.somforum17.cbs.dk.
The Forum will be held in Denmark, organized by Copenhagen Business School on January 19-20, 2017. The deadline for abstract submission is Oct 9.