Case study: European Universities collaborate to develop Bavarian Entrepreneurship Academy of Internet of Things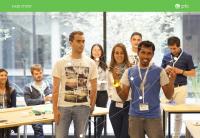 This week, the company PTC has published a case study about the entrepreneurship academy on Internet of Things (IoT) that was organized jointly by Wi1 and UnternehmerTUM within the Horizon2020 project STRATIFY7. This case study comes within a collaboration with PTC as they have offered their platform Thingworx, a leading industrial IoT cloud platform, for the students to develop their IoT projects during the academy, and opened for them their online IoT University for accessing teaching and tutorial resources. The case study also features our associate researcher Aida Boukhris as she underlines the rationale behind the curriculum.
To learn more, you can download the case from the Thingworx website by clicking here.