Research paper published in Special Issue "Artificial Intelligence and Robots in Service Interactions"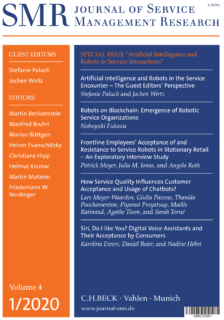 Patrick Meyer, Julia M. Jonas and Angela Roth recently published a new article titled "Frontline Employees' Acceptance of and Resistance to Service Robots in Stationary Retail – An Exploratory Interview Study" as a part of the very timely special issue "Artificial Intelligence and Robots in Service Interactions" of the Journal of Service Management Research, edited by Stefanie Paluch and Jochen Wirtz.
The article focuses on service frontline employees (FLEs) and their acceptance of service robots in retail settings. The paper highlights the crucial role of human FLEs and their feelings towards service robots.
Much of the extant academic service robot literature takes a customer perspective in general or focuses on the customer's acceptance of service robots. Here, the current study by Meyer, Jonas and Roth makes a strong contribution by shedding light on the drivers and barriers of employee-robot collaboration in retail settings. Specifically, the authors found that for a successful implementation of service robots it is essential to understand how service employees react and what drives their acceptance and resistance.
Download for free:
Meyer, Jonas, Roth – 2020 – Frontline Employees' Acceptance of and Resistance to Service Robots in Stationary Retail – An Exploratory Interview Study