OSL Young Researchers Day 2023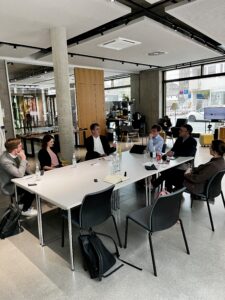 The second part of the OSL Young Researchers Day on October 12, 2022 took place on April 18, 2023 at the JOSEPHS in Nuremberg (
Link to JOSEPHS website
). At this second event, the Open Service Lab (OSL) was pleased to welcome Mr. Ralf Münchow from Department 521 "Future of Work and Value Creation; Industrie 4.0″ of the German Federal Ministry of Education and Research (BMBF) to discuss ideas for future research in the field of service research with four selected teams from the previous event.
Last year, MinR Dr. Otto Fritz Bode, head of the BMBF's Department 521, visited the OSL to be inspired by the innovative research ideas and concepts of the doctoral students from the Friedrich-Alexander University Erlangen-Nürnberg (FAU) and the Otto-Friedrich-University Bamberg.
The participating teams had worked intensively on their topics and questions over the past months and had grown together into interdisciplinary teams. The discussion was moderated by Prof. Dr. Angela Roth, Chair of Information Systems – Innovation and Value Creation at FAU and head of the OSL, and Prof. Dr. Alexander Pflaum, Chair for Business Administration especially Supply Chain Management at the Otto-Friedrich-University Bamberg.
The highlight was a guided tour through the JOSEPHS, which provided the impetus for a lively discussion on the potential of validating proposal ideas through living labs and, in general, on the possibilities of a stronger integration of living labs into research funding.